For businesses today, the need to invest in new technologies is a necessity to compete.
Whether its marketing tools, IT infrastructure, or, of course, cybersecurity solutions, new technology (particularly cloud-based tech) is a central priority for organizations to ensure they are prepared for the future.
Sign up for our newsletter!
The problem for many, especially as far as cybersecurity is concerned, is that tech investments are expensive and in-house specialists are even more expensive.
The result of this is companies instead opting for managed security service providers for their needs.
So, with this in mind; what does a managed service relationship with a partner like DOT Security look like?
Brief Overview of Managed Security Services
Managed security services provide cybersecurity offerings to businesses on a contracted ongoing basis.
Service providers, known as "MSSPs", provide a team of cybersecurity specialists that cover every aspect of business security, from compliance to access management.
Why Are MSSPs Needed?
Cybersecurity as a whole has become a lot more complex in recent years.
This is a result of a number of factors—more devices are used in organizations that can be hacked; more cyberattacks are conducted than ever; businesses hold and utilize valuable data more today than previously; and security protections are lacking in SMBs.
In short, security is a primary concern for businesses today, regardless of their size.
Moreover, the damages that can be incurred from being the victim of a data breach far outweigh the costs of hiring an MSSP, yet a large number of organizations still do not invest in the protections they need.
Consider, for example, that 69% of companies are unsure if they are prepared to deal with significant data loss or corrupted information.
That's a large majority of businesses that are seemingly unprepared to tackle the challenges that the current cybersecurity environment has created.
The global market for cybersecurity is expected to grow at a rate of 10.9% between 2021 and 2028. Having been worth $24 billion in 2016, it is now anticipated to be valued at $167 billion toward the end of the decade.
This is why MSSPs are needed, and why so many SMBs are investing in their services.
Nearly 90% of business executives either currently use or plan to hire a managed security service provider (MSSP) for their cybersecurity services.
MSSP vs. In-house
For most business-critical operations, specialists work in-house for an organization.
While cybersecurity is quickly becoming a business-critical aspect of modern companies, having an in-house team to oversee it is simply not possible for most.
This is mainly to do with the simple cost of hiring an entire team of cybersecurity specialists.
Consider some cybersecurity positions and their average salaries:
Information Security Manager: $125,000 – $215,000
Cybersecurity Engineer: $120,000 – $200,000
Application Security Engineer: $120,000 – $180,000
Cybersecurity Analyst: $90,000 – $160,000
Penetration Tester: $80,000 – $130,000
Network Security Engineer: $125,000 – $185,000
Healthcare Corporate Compliance Officer: $120,000
It's simply not realistic for many SMBs to put together a team in-house at this expense, and so MSSPs offer an alternative that's much more feasible in terms of the costs of strategizing, implementing, and overseeing a security plan.
If you're wondering whether it's necessary to have a team this large, then consider all the aspects of network security that are involved in a modern security strategy—security is more complex and requires more hands on deck than in previous years.
In other words, an antivirus solution won't cut it anymore—though a next-gen antivirus solution is a good start.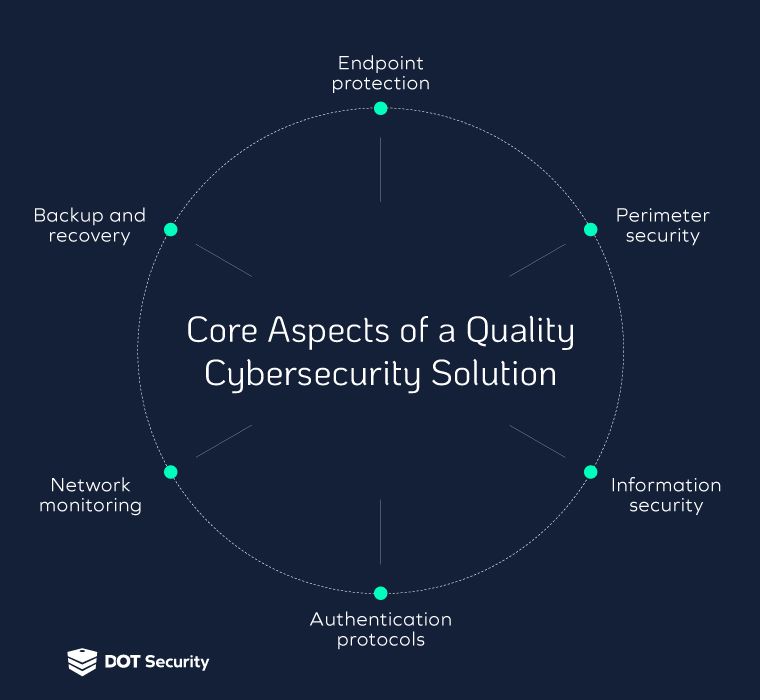 The Managed Security Service Relationship Explained
With all that being said, let's discuss the relationship between a managed security service provider and a business.
Assessment
Every managed security service relationship begins with a risk assessment.
This is where cybersecurity professionals and penetration testers will examine closely the network and security practices of a company.
This will give them an indication of where an organization is and allow them to perform a gap analysis (if necessary) to determine where they are falling short on matters of compliance.
When the assessment is concluded, the client will be provided with a set of recommendations to remediate any concerns and implement a suite of tools, solutions, and practices that ensure the organization's cybersecurity profile is strong enough to keep them from harm.
vCISO
The vCISO, or Virtual Chief Information Security Officer, is responsible for having oversight over the client's cybersecurity program and will act as the primary point of contact for them.
The role of a vCISO is crucial and will vary from one MSSP to another.
At DOT Security, our vCISOs are dedicated to the client they work with, meaning they are never switched for another vCISO and clients can expect to have the same point of contact for the duration of their contract.
Some service providers do not provide a dedicated vCISO, which is something businesses should be aware of before they enter into a contract.
What Does the vCISO Do for You?
A vCISO acts as your guide through the implementation of the cybersecurity strategy and ensures everything is working as expected.
They will work with you on a number of key areas, including:
Budget
When you're working to a budget, the vCISO should be there to make sure that the plan is put in place and the solutions required are within budget.
If there are resource constraints, they should be mindful of this and draw up solutions that should be prioritized to protect the most business-critical aspects of a company.
Compliance
Most MSSPs have compliance officers—vCISOs will collaborate with compliance specialists to make sure that an organization is up to date with new or changing regulatory requirements.
Goals
Every company's approach to cybersecurity has differences in what they prioritize with regard to ensuring the protection of their business-critical operations and infrastructure.
As organizations grow and change, goals change, and the vCISO should be prepared to strategize to accommodate these changes.
If, for example, an organization begins prioritizing one line of business over another, or starts a new LOB altogether, the vCISO should understand what needs are required and how to shift the strategy to meet these new goals and their potential associated attack vectors and compliance needs.
Landscape and Trends
The cybersecurity environment for businesses is constantly in flux, meaning new threats and changing practices and norms are important considerations for a vCISO to be on top of.
When there's a change that needs to be addressed or a new threat that poses a risk to the business, the vCISO is the one who will make sure the correct plan is sought to keep them protected.
Reviews
A managed service relationship is just that—a relationship.
An ongoing, long-term partnership between an MSSP and a business is productive for both parties—the MSSP can get to know the business as well as an in-house specialist over a long period of time and be able to build a better strategy as a result of this knowledge.
One of the ways this is maintained is by conducting regular reviews—often bi-annually or annually.
These reviews are similar to the risk assessment that takes place at the beginning of a relationship and offers the opportunity to assess the success of the current strategy and whether the vCISO needs to recommend any further changes to ensure the plan is on the right track.
Bottom Line
Managed security service providers are more desired by businesses than ever, owing to their ability to offer a suite of services at a competitive rate when compared to an equivalent in-house option.
Such is the importance of a business cybersecurity strategy that the relationship between an MSSP and the client should be close, with a dedicated vCISO who can act as the single point of contact and help guide the strategy and its implementation over a long period of time.
This instills stability in the security plan and allows the MSSP to be a valuable partner for the organization, setting them up for cybersecurity success in the future.
If you're interested in getting the services of an MSSP but are unsure where to start, get in touch with one of our specialists and we can help you get the ball rolling on your strategy for cyber success. Contact one of our specialists.