Security operations centers (SOCs) are the beating heart of a cybersecurity operation. They contain some of the most crucial elements that help build a strong cybersecurity strategy, including the teams and tools that make it work. SOC is a centralized facility that employs cybersecurity experts who utilize tools and procedures to proactively monitor, detect, and respond to cyber security threats.
Learn more about what goes on in a SOC, the people and their roles within a cybersecurity strategy, and why SOCs are such an important aspect of cybersecurity for businesses.
Is your business fully covered against modern threats? Download our checklist, How Covered is Your Business?, to see what you need to stay secure.
What is a Security Operations Center?
A security operations center (SOC) is a central cybersecurity hub that is home to teams of specialists and innovative technology that makes high-level cybersecurity possible. SOCs are where many elements of a cybersecurity strategy are executed.
SOC Benefits
There are a lot of benefits to businesses when their dedicated cybersecurity team is under one roof and working toward a common goal, including:
Faster Responses: A SOC uses the latest technology and real-time monitoring to provide businesses with faster response times, the ability to get real-time updates on your entire infrastructure, and a more holistic understanding of the status of security systems even over multiple locations and devices. This makes it easier for a security team to identify, react to, and resolve issues as they arise and before they can cause issues for a business.

Stronger Security: The ability to track and monitor an organization's digital infrastructure inside a centralized security hub drastically improves the quality of the service. With a SOC, a cybersecurity team can more easily perform their duties, including 24/7 monitoring of a business' digital infrastructure to ensure its safety from cyberthreats.

Collaboration: Cybersecurity requires effective communication to keep everyone on the same page. In a SOC, teams can freely communicate, share data, and discuss strategies together. A SOC gives businesses more unrestricted access to experts in all fields of cybersecurity from engineering to compliance services to data reporting, all working together.

Consistent Protection: Cyberattacks don't always occur within working hours. With a SOC watching your back, your business gets 24/7 network monitoring to ensure attacks are always identified quickly.

Easier Compliance: A cybersecurity operations center provides many of the security controls that major regulations call for to make meeting and maintaining compliance standards simpler.

Stronger Reputation: Having access to an expert-filled SOC is a message to your investors, customers, audience, and employees that you're taking security seriously. It's something you can tell present and prospective customers to build trust by providing assurance as to the security of their data.

Complete Expertise: In a SOC like DOT Security's, all the cybersecurity experts are gathered in one place. It's where strategies are discussed, cyberattacks are identified, and information is shared to ensure that your business always has the most up-to-date protection plan possible.
What's Inside a Security Operations Center?
Inside a SOC, a cybersecurity team performs the many functions and services necessary to ensure the protection of a business' digital infrastructure.
Here's a look at what happens inside a SOC, including the services performed and the people performing them every day.
Managed SOC Services
- Network Monitoring: To protect businesses from the constant threat of cybercriminals, cybersecurity teams in a SOC are always monitoring network activity for signs of an attack, ready to report and execute a response plan if necessary. Network monitoring helps businesses mitigate the risks of an attack by improving threat detection, allowing for more time to properly react with appropriate measures.
- Vulnerability Management: Experts in a SOC keep their fingers on the pulse on the threats to your business' critical software to ensure its defenses are always up to date and you're always aware of new threats and potential vulnerabilities.
- Incident Response: When a cybersecurity incident is identified, the SOC will start the incident response procedure and will quickly notify you as soon as possible.
- Reporting: A dedicated vCISO working from the SOC works to ensure companies are always aware of their security status, the effectiveness of their security plan, potential threats, and necessary updates. They'll share reports with the newest data and trends available to make sure the established strategy is still the most effective solution.
- Compliance as a Service: Compliance is a constant process. Businesses need to ensure they are consistently maintaining compliance with critical regulations like CMMCand HIPAA. Compliance services give businesses the teams they need to become compliant and maintain it over time and through changing circumstances.
Related: Identity and Access Management Standards for Compliance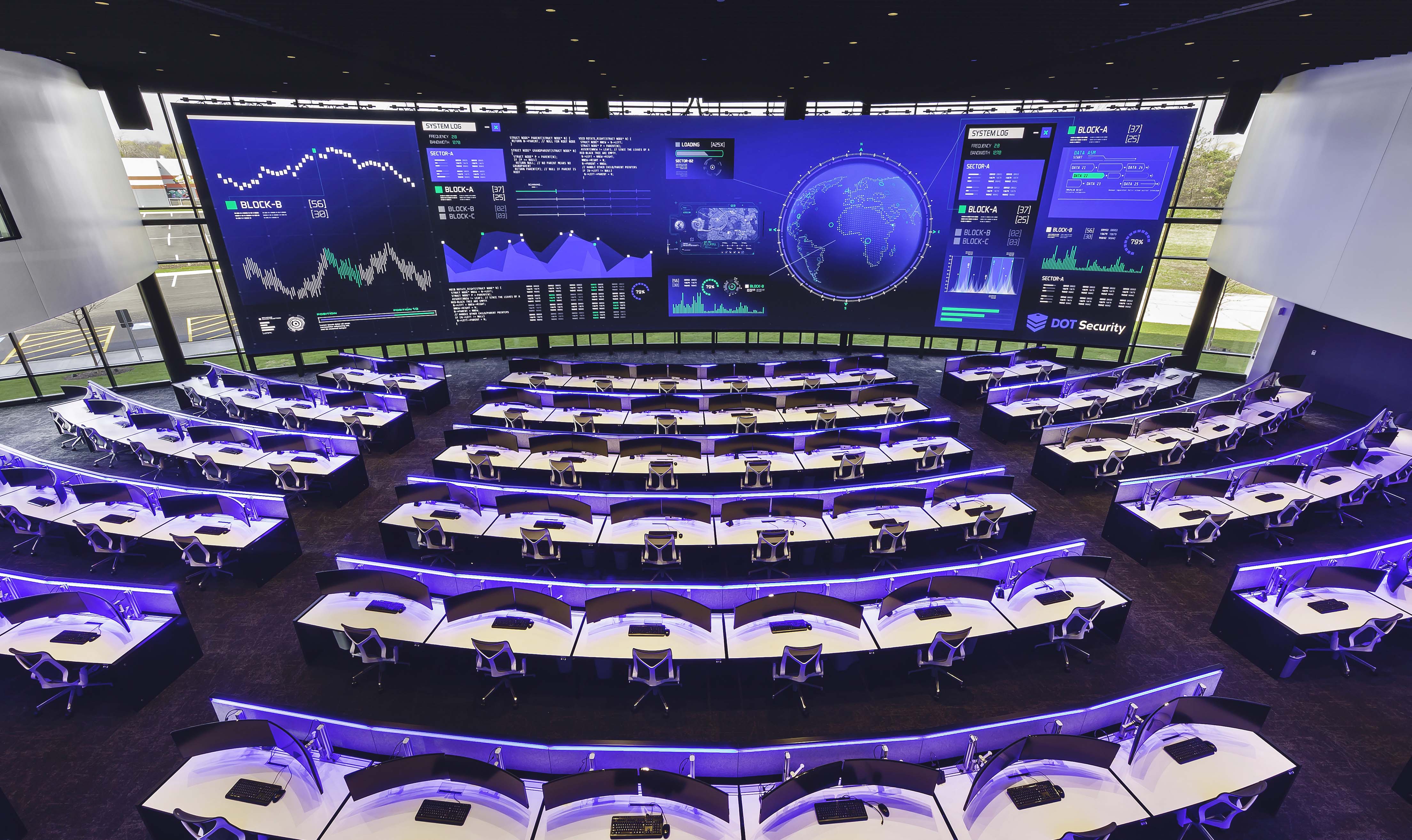 Who Works in a SOC?
- VCISOs: Virtual Chief Information Security Officers (vCISOs) are the point-person for your business' cybersecurity and act as a point of contact who knows the ins and outs of your business, your cybersecurity strategy, and cybersecurity trends.
- Compliance Managers: Compliance Managers are experts in regulations like HIPAA and CMMC and help you maintain compliance.
- Cybersecurity Engineers: Cybersecurity Engineers perform the day-to-day maintenance on your system, conduct risk audits, and help make recommendations for updates to a cybersecurity strategy.
- Cybersecurity Analyst: Analysts take gathered data and draw insights and analyses from it to make suggestions and updates to cybersecurity strategies and systems.
In Conclusion
A security operations center is where cybersecurity services are executed and a SOC full of experts and the latest technology can make a substantial difference in a business' information security. The people, processes, and technology found in a SOC helps businesses stay protected from modern cyberthreats.
DOT Security is proud to announce the official opening of our own Security Operations Center in Lake Forest, Illinois which is now open and filled with security experts to help secure your business. Learn more about our SOC and what partnering with an MSSP like DOT Security can offer your business.
Is your business as protected as it should be? Is your data vulnerable to cybercriminals? Use this new checklist to determine how covered your business is from modern threats and discover where your vulnerabilities may lie. Download the checklist now.